There's only one more week left before one of my highly anticipated releases of 2021 is being published! All the tides of fate, the sequel to All the stars and teeth, by Adalyn Grace is the kind of book I'm both excited and terrified to read. The publisher is hosting a (re)readalong for the first book in this duology that starts today, but before I start my third reread, I thought it'd be fun to convince you to read this book! In this post I'll share some fun things that'll be happening around the release of the sequel, and I'll of course share a fair amount of screaming about All the stars and teeth as well!
What is All the stars and teeth about?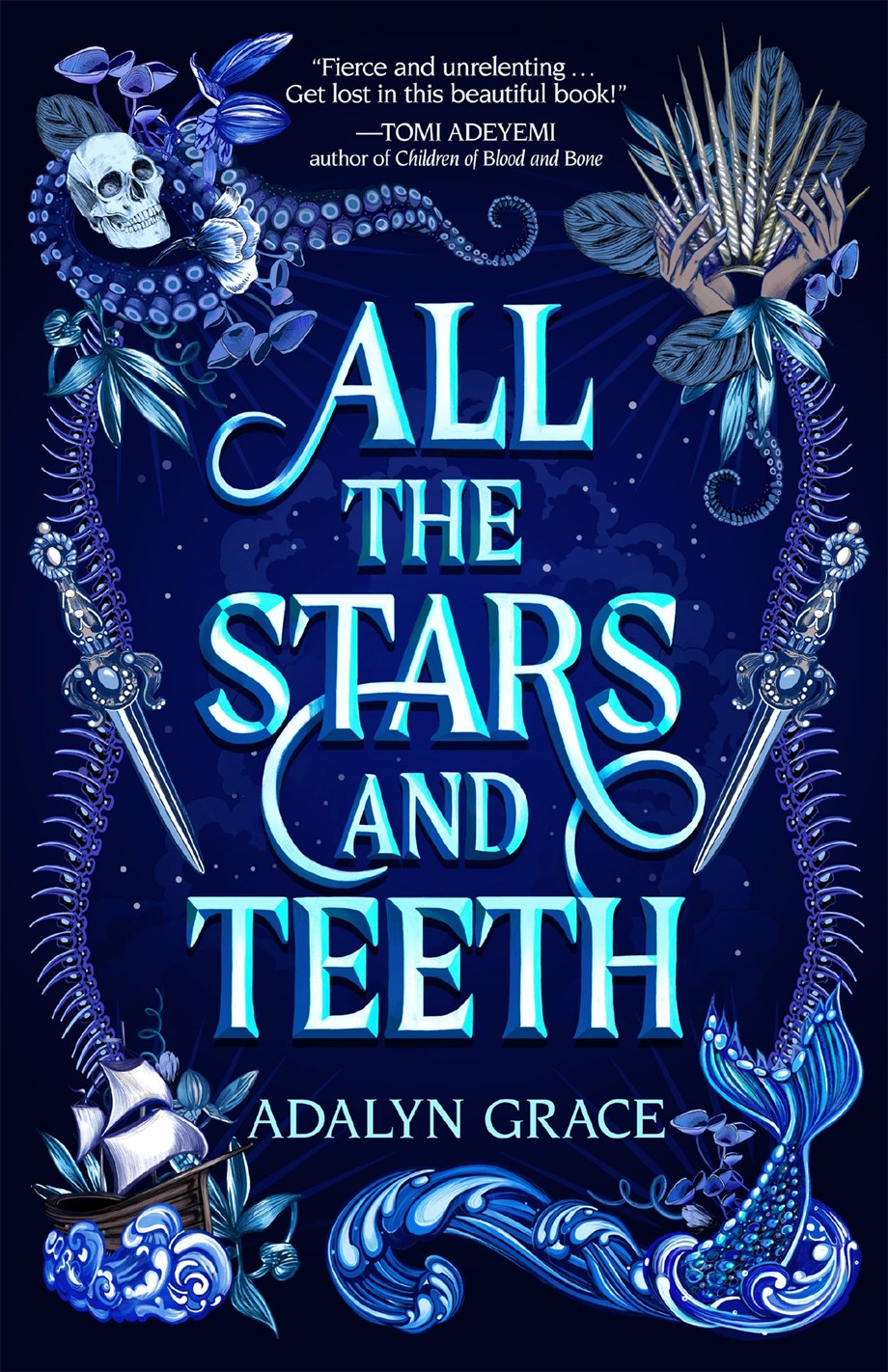 AUTHOR: ADALYN GRACE
SERIES: ALL THE STARS AND TEETH #1
GENRE: YOUNG ADULT, FANTASY
Set in a kingdom where danger lurks beneath the sea, mermaids seek vengeance with song, and magic is a choice.
She will reign.
As princess of the island kingdom Visidia, Amora Montara has spent her entire life training to be High Animancer — the master of souls. The rest of the realm can choose their magic, but for Amora, it's never been a choice. To secure her place as heir to the throne, she must prove her mastery of the monarchy's dangerous soul magic.
When her demonstration goes awry, Amora is forced to flee. She strikes a deal with Bastian, a mysterious pirate: he'll help her prove she's fit to rule, if she'll help him reclaim his stolen magic.
But sailing the kingdom holds more wonder — and more peril — than Amora anticipated. A destructive new magic is on the rise, and if Amora is to conquer it, she'll need to face legendary monsters, cross paths with vengeful mermaids, and deal with a stow-away she never expected… or risk the fate of Visidia and lose the crown forever.
My time to shine (or rather scream): why you should read All the stars and teeth!
Okay okay okay, before this will be the longest blogpost I've ever written let's keep it to five simple reasons why you should read All the stars and teeth! We'll be talking about: the crew, the adventure, the writing, the magic, and because I said so (this will basically be me screaming). Let's go!
The Crew
These characters have totally stolen my heart. I'm all about unlikely friendships (if you didn't notice that yet) and just love the banter between the four crew members. They all have such different personalities and I'm absolutely here for that. Also, can we just appreciate that no one trusts each other in the beginning? Ah, what a time…
So yeah, I'd give everything to join the crew so I can be absolutely useless while just…screaming at our dear crew members. Like, it's even hard to pick a favourite? Maybe I'm just a little in love with all of them (yes, that's possible).
The Adventure
It's so hard to describe All the stars and teeth because the adventure is just something you should see for yourself, you know? Which is actually the whole point of writing this — to convince you to experience it, too. Everything about it just makes me want to hide in my room all day, buried under some blankets, so I can read all day to feel alive. This book makes me feel more alive than…living. Okay, that's probably concerning but you get the point!
The Writing
When I tell you Adalyn Grace knows how to write, I mean it. Every time I open this book I'm all screaming because yes. It just has a really good, dark vibe to it which I can only appreciate, of course! I really can see everything vividly to the point it doesn't feel like reading but like…looking? I can only stan!
The Magic
If Adalyn Grace's writing style didn't have a dark tone already, the magic in this book would have been dark on its own, too. I really love the system of it and the magic Amora, the main character has. And duh, magic with consequences? YES! It's hard to explain why it's so good so I guess…you'll just have to read it!
Because I said so
This is probably my favourite section of this post because IT'S TIME TO SCREAM! This is gonna be very incoherently but hey, I'm chaotic and you'll have to put up with me! So, here are some reactions I've written down while reading:
– omg omg omg omg SHE DID WHAT NOW?
– wait so 1) dark magic and 2) set at SEA AND 3) found family??? I don't know about you but I'm trash for that.
– at this point I'm not absorbing the story…the story is absorbing me (d-does that make any sense???).
– Amora dear your CHARACTER DEVELOPMENT I STAN!!
– Ferrick is so innocent, a must-protect, there's no room to argue.
– Okay but Bastian is a big softie, I said what I said…
– Vataea…yes. Just yes.
– VATAEA!!!
– Aaaand then I was crying at 1am…again…yay
– Wow I really am trash.
Want to find out what exactly I'm screaming about? You know what you need to do…
Some things surrounding All the tides of fate!
I've never really announced this on my blog before, but I'm actually a sea crew member for All the tides of fate, which basically means I get some "behind-the-scenes" looks and I get to share some information with you every now and then! Today I'm just gonna dump it all on you because I can!
Like I mentioned before, the publisher is actually hosting a readalong for All the stars and teeth this week! I'll of course be joining since I'm too weak to resist another opportunity to reread. All information on the readalong can be found here! If you're reading, please feel free to send me a message so we can scream together!
Also, there's a preview of All the tides of fate as if I wasn't already craving the book! If you've read the first book, be sure to check out the first three chapters here! Don't spoil yourself though, in case you haven't read it!
There's also an online event with Adalyn Grace and three other authors at Waterstones in a few days (click here) and also a launch event on the release date of All the tides of fate (February 2nd!) with Tomi Adeyemi!
And for those in the US there's a preorder campaign where you can receive absolutely stunning art (which I'd die for, just so you know!). If you're international and preorder the book, you'll receive the art digitally!
Lastly, there's a book trailer! It is so magical and I'm literally in love! Here it is:
The paperback of All the stars and teeth actually came out today by the way! And the cover is too gorgeous aaah! Either way, go check out Adalyn Grace's Instagram, Twitter and website!
---
I think that's about all you should know about this duology! As you might notice, I'm a bit obsessed with the first book and therefore impatiently awaiting the sequel (only one week left, help)! I hope you enjoyed reading this blogpost and if you haven't read this book yet, I hope I've convinced you to pick it up! Now, if you'll excuse me, it's time to start my third read of All the stars and teeth!