Most of the times I know exactly why a book attracts me. It often has something to do with a specific element or trope but with this book, however, I truly don't have a clue why I decided to read it. Of course, it has a beautiful cover and an interesting premise but I don't know if it sounds as something I personally would read. But, well, I did! Something deep inside of me just told me I had to pick it up. Am I thankful for that feeling? Let's find out!
What is Everything I thought I knew about?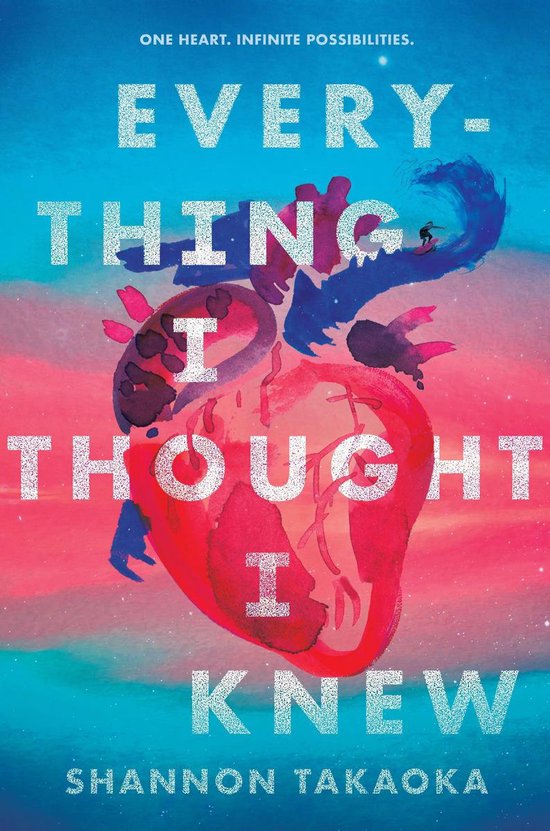 AUTHOR: SHANNON TAKAOKA
PUBLISHER: CANDLEWICK
PUBLISHING DATE: OCTOBER 13, 2020
GENRE: YOUNG ADULT, CONTEMPORARY
PRICE: €18.00
A teenage girl wonders if she's inherited more than just a heart from her donor in this compulsively readable debut.
Seventeen-year-old Chloe had a plan: work hard, get good grades, and attend a top-tier college. But after she collapses during cross-country practice and is told that she needs a new heart, all her careful preparations are laid to waste.
Eight months after her transplant, everything is different. Stuck in summer school with the underachievers, all she wants to do now is grab her surfboard and hit the waves—which is strange, because she wasn't interested in surfing before her transplant. (It doesn't hurt that her instructor, Kai, is seriously good-looking.)
And that's not all that's strange. There's also the vivid recurring nightmare about crashing a motorcycle in a tunnel and memories of people and places she doesn't recognize.
Is there something wrong with her head now, too, or is there another explanation for what she's experiencing?
As she searches for answers, and as her attraction to Kai intensifies, what she learns will lead her to question everything she thought she knew—about life, death, love, identity, and the true nature of reality.
What did I think of Everything I thought I knew?
"Here's one of many things I thought I knew that turns out to be wrong: you need to fall in love to end up with a broken heart."
First things first, have you read that quote that's mentioned above? That's the first line of this book. As in, I open this book and BOOM. Just like that, I knew I was gonna love this book.
But okay, the writing style was an aspect of this book I really enjoyed. I'm a sucker for lines that can really make you think about things, like the one I quoted already, and are casually scattered throughout the story. Shannon Takaoka handled these kinds of thing exceptionally well and I overall just ADORED her way of storytelling!
I would say this is a rather serious story though. It talks a lot about life and things like that and although I'm absolutely in love with those subjects, I know other readers would rather spend their time with a light, funny story. If you're looking for something like that, this will probably not be for you but do remember that serious doesn't have to mean depressing! Everything I thought I knew left me feeling hopeful and with new insights at life (and with tears in my eyes, but that's just because I'm an emotional wreck).
But, after being so sure I was gonna love this story, I started feeling very hmmm about this book. I don't know, the story was intriguing and the characters were interesting and nice to follow, but nothing really seemed to carry the story. I just felt like I was reading without knowing where it was going…in a bad way, that is.
So I kept on reading about Chloe and I really, really liked her story. It was unlike anything I had ever read and there was a great dynamic between Chloe and Kai and Chloe and Jane, but it just didn't feel like enough. I just wanted more. At this point I was at 70% and pretty positive this was gonna be a 2-star read.
Two chapters after that, I was crying.
It weren't just tears, I was in pain. This book took a turn and it just made up for everything in my opinion. The only problem I had with this story was that it felt pointless and then it got a very, very strong one. It's definitely something you have to be into, but I was down for the way the story chose to go!
Of course there wasn't a lot left at this point, but when I tell you I didn't stop crying, I mean it. I stayed up late just to read this and then I couldn't sleep because, well, I was crying a little bit. Either way, this was a rollercoaster to read for me. I was sure I was gonna love it, then I felt mehhh, and then I was crying.
But like I said, this book really gave me a new perspective in life and I loved the hopeful aspect of it. It broke my heart and mend it together again and I just straight up LOVED IT!
I'm definitely glad I picked this up because I honestly wouldn't want to miss this amazing debut, and you don't want to either! In my opinion more people need to read this so I definitely encourage you to do just that and give me all the updates when you're a sobbing mess like me. If you're wondering, writing this review made me think of the characters and I feel like crying again, so it definitely had an impact on me. This beautiful book gets a 4/5 from me! I'm already a fan of Shannon Takaoka!
Thank you to Candlewick for providing me with this e-arc in exchange for an honest review.