Kerri Maniscalco is one of those authors I've wanted to check out for a while now, but never actually did. Her series Stalking Jack the Ripper just seems to be written for me and I thought her concepts really couldn't get better from there on, but then this book got dropped, and I—I have no words.
What is Kingdom of the wicked about?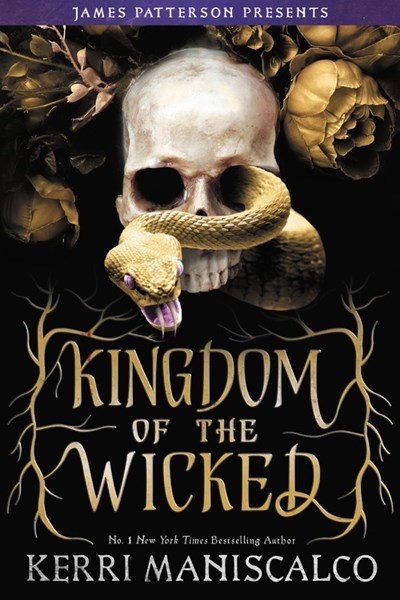 AUTHOR: KERRI MANISCALCO
SERIES: KINGDOM OF THE WICKED 1
PUBLISHER: JIMMY PATTERSON
GENRE: YOUNG ADULT, FANTASY
PRICE: €15.99
Two sisters. One brutal murder. A quest for vengeance that will unleash Hell itself…And an intoxicating romance.
Emilia and her twin sister Vittoria are streghe – witches who live secretly among humans, avoiding notice and persecution. One night, Vittoria misses dinner service at the family's renowned Sicilian restaurant. Emilia soon finds the body of her beloved twin…desecrated beyond belief. Devastated, Emilia sets out to find her sister's killer and to seek vengeance at any cost-even if it means using dark magic that's been long forbidden.
Then Emilia meets Wrath, one of the Wicked-princes of Hell she has been warned against in tales since she was a child. Wrath claims to be on Emilia's side, tasked by his master with solving the series of women's murders on the island. But when it comes to the Wicked, nothing is as it seems…
What did I think of Kingdom of the wicked?
"Love is the most powerful magic. Above all else, remember that. It will always guide you where you need to go."
This book is a dark fantasy with witches and demons SET IN ITALY! Everything about this setting is just utter perfection and one of the many reasons I was so intrigued by this story. The vibe was just a big yes and aah I need more books like this. Seriously, this is like my ideal dark fantasy.
Another thing that definitely added to that vibe is Kerri Maniscalco's writing style because wow. I completely fell in love with it and aaah. There are beautiful lines like the quote I picked, but also other gems like: "Why do villains always wear black?" "Better to hide the blood with, witch." Like, how can you even THINK I can resist such quotes?
Now, the characters might even be better than the vibe. I know, shocking! But Emilia is literally my new queen, I just love her so much. I could really connect with her! Also, this book is full of morally grey characters and I'm here for it, just so you know.
The romance made my heart stop beating (maybe I also cried…just maybe) and that's all I'm gonna say because I'm not ready to talk about it yet.
However, for some reason, I just can't give this book 5/5. I don't know exactly why because I'm A MESS over this book, but I have a gut feeling the sequel is gonna fill that empty spot either way. Talking about the sequel…2021? I NEED IT NOW!
So ehm yeah, I'm pretty obsessed. I just want more and don't know what to do with my life until I get it. Dark fantasy lovers will absolutely devour this book! Kingdom of the wicked gets a 4/5 from me! Kept me up all night…
Thank you to Jimmy Patterson for providing me with this e-arc in exchange for an honest review.
Love,
Alissa