Als je de afgelopen weken op de Nederlandse bookstagrams of boekenblogs keek, heb je dit boek ongetwijfeld al zien passeren. Zomerburen was voor mij en vele andere een boek om naar uit te kijken aangezien het zo'n grote stap is voor de Nederlandse community. Vandaag vertel ik jullie of dit veelbelovende boek het ook écht waard is.
Waar gaat Zomerburen over?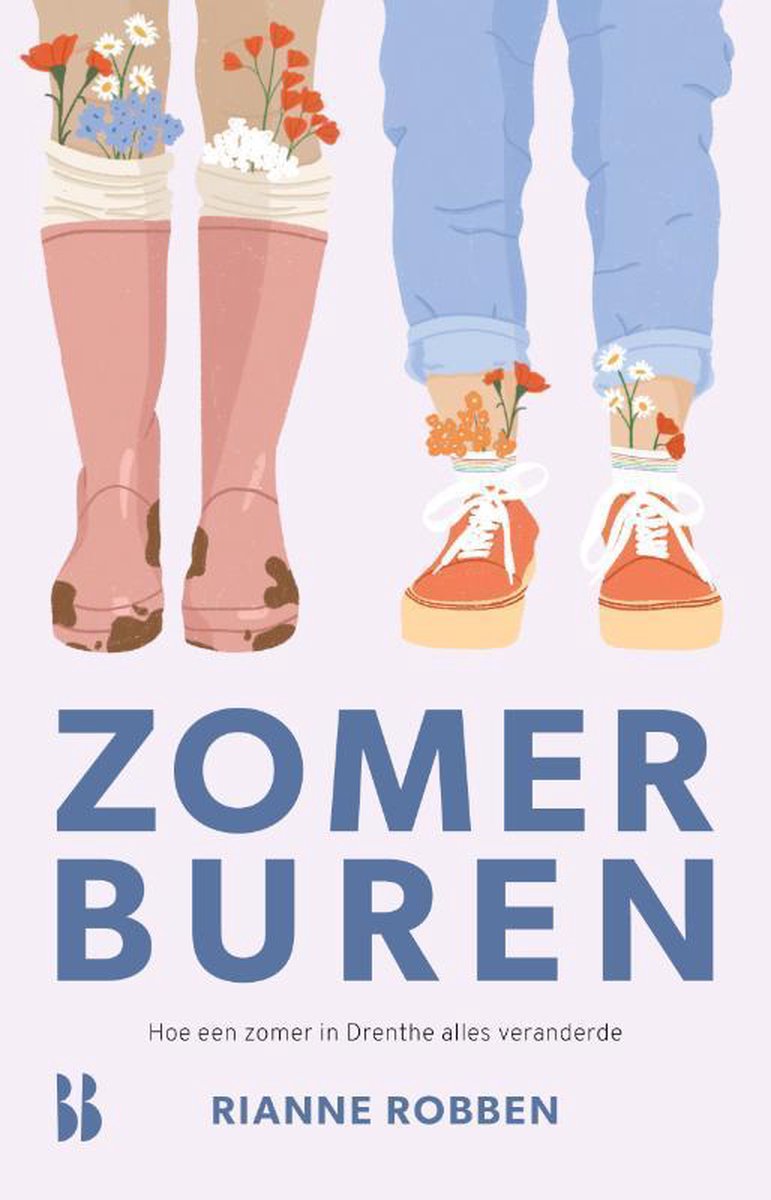 AUTEUR: RIANNE ROBBEN
UITGEVERIJ: BLOSSOM BOOKS
GENRE: YOUNG ADULT, CONTEMPORARY/ROMANCE
PRIJS: €18.99
Opgroeien hoort een rechte lijn te zijn. Niet… dit.
Olivia heeft haar toekomst al helemaal uitgestippeld: na de zomer gaat ze Nederlands studeren en samenwonen met haar vriendje Niels. Dat plan valt echter in duigen als hij in de eerste week van de zomervakantie in zijn eentje naar Australië vertrekt.
Verdrietig en in de war besluit Olivia de zomer door te brengen bij haar opa en oma in Drenthe, waar ze elke dag afspreekt met hun buurmeisje Ilse. Met Ilse durft ze haar twijfels te delen; over haar vriendje, haar studie en haar toekomst. Olivia merkt dat ze langzaam weer vrolijker wordt. Zou dat komen door de lieve lach en de mooie krullen van Ilse waar ze opeens zo vaak aan moet denken?
Koop Zomerburen nu bij Standaard boekhandel, Libris,…en steun je lokale boekhandel!
Wat vond ik van Zomerburen?
"Hoeveel ellende is een verliefdheid waard?"
Het moment dat ik voor het eerst over dit boek hoorde, sprong ik zowat van blijdschap. De Nederlandse young adult boekencommunity is relatief klein en ook best wel ondergerepresenteerd, dus toen bekend werd dat dit boek op de markt zou komen, waren mijn verwachtingen al torenhoog.
Maar dat een boek over een biseksueel personage gaat maakt het niet automatisch een goed en sterk verhaal. Zomerburen is zoveel meer dan dat, daarom is dit geen normale recensie, maar eentje opgesplitst in vijf redenen waarom jíj dit móét lezen!
1. Karakters
Olivia en Ilse hebben mijn hart toch wel even weten te stelen. Ze voelden heel realistisch, eigen en dicht bij huis. De ontwikkeling die ze doormaken was echt 10/10 voor mij, ik was zo enthousiast op sommige momenten! Om Ilse en Olivia heen heb je nog veel meer karakters die stuk voor stuk geweldig zijn (of niet, in sommige gevallen, maar anders zou het wel heel onrealistisch zijn).
2. Schrijfstijl
Dit is Rianne Robben haar debuut en ik kan al zeggen: ik wil meer! Schrijven kan ze zeker, ik vloog namelijk door dit boek heen! Ze schrijft heel mooi en levendig waardoor ik alles zo voor me kon zien. Op momenten was het lekker luchtig geschreven, maar op de goede momenten ook serieus. Dit is dus zeker een auteur om in het oog te houden!
3. Toegankelijkheid
Dit sluit een beetje aan bij schrijfstijl, maar ik vloog dus echt door dit boek heen! Rianne Robben heeft iets herkenbaars of leerzaams voor iedereen in dit boek gestoken. Dit kan oprecht een van de boeken zijn die een tiener die niet graag leest oppakt en denkt: "Wow, dat was eigenlijk heel goed!" Het is gewoon perfect voor de doelgroep young adult, maar zelfs daarbuiten blijft dit een sterk verhaal!
4. Representatie
Dit boek is niet alleen divers, het heeft ook daadwerkelijk goede representatie. Zoveel mensen zullen zich in Zomerburen herkennen of er iets uit leren (lees: ik ga heel veel mensen in mijn omgeving dit boek in de handen drukken). Mijn leerkracht is het nu aan het lezen en mijn moeder heeft het al uit, hahah! Nu jij nog…
5. Dacht je echt dat ik het bij vijf kon houden?
Dit boek heeft gewoon zoveel, dat mijn laatste punt bijna onmogelijk in één categorie past. Zomerburen is grappig, hartverwarmend, hoopvol, herkenbaar en zoveel andere dingen waar ik nu niet het juiste woord voor kan vinden. Mijn punt is gewoon: lees dit boek!
Ik kan niet anders dan een beetje trots zijn op onze kleine community. Dit boek is zó een grote stap vooruit en daar verdient Rianne Robben dan ook echt een applaus voor. Dit boek voldeed zeker aan mijn verwachtingen en ik ben dan ook blij om te kunnen zeggen dat dit debuut van mij een 4.5/5.
Bedankt Blossom books voor het opsturen van dit exemplaar in ruil voor een eerlijke recensie.
Liefs,
Alissa